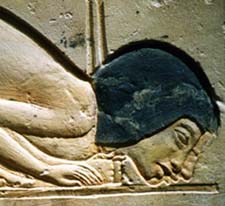 James White recently gave a sermon at his home church explaining how
Genesis
50 shows how
Joseph
could look over his roller coaster life full of all kinds of unwelcomed drama and come to the conclusions he reached and forgave his brothers when it was them selling him into slavery was the start of his problems. But it also led to the result of him becoming the number two man in
Egypt
, second only to
Pharaoh
himself. It cemented Egypt's place as one of the world's first superpowers. And saved Egypt,
Canaan
, and all the surrounding nations from a 7 year famine! Dr. White explains in his presentation how and why Joseph could tell his brothers:
But Joseph said to them, "Don't be afraid. Am I in the place of God? You intended to harm me, but God intended it for good to accomplish what is now being done, the saving of many lives. So then, don't be afraid. I will provide for you and your children." And he reassured them and spoke kindly to them. - Genesis 50:19-21
Please note that the image on this article depicts the only reasonable and logical response created creatures such as ourselves should give to the one who made us and is sovereign over all reality - prostrating ourselves at the throne of God.
Lessons in God's Sovereignty and Man's Responsibility: Joseph