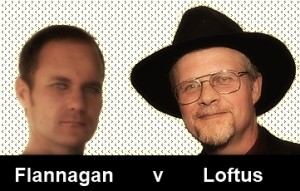 Madeleine Flannagan posted an announcement that there may be
debate
between Matthew Flannagan and
John Loftus
. I hope this does happen. I think it would be worth seeing.
Want to see Matthew Flannagan debate John W. Loftus in America? | MandM
Seems like John Loftus is also excited about the prospect. Given what I've seen about Loftus in debate - oral and written - I don't think Dr Flannagan has a thing to be concerned about. All he has to do is be prepared. In his post Loftus said:
And check back for more details. It's only a month away. I plan to trash him [Flannagan]. ;-) - John Loftus
As if that would happen...lol.